Let's get one thing straight. Soccer wives and girlfriends, or "WAGs," are more than just eye candy. They're women. They're mothers. They contribute to our society just as the players do. Beauty is certainly a good quality. Anyone that's attracted to women appreciates good looks and sex appeal. Today we're celebrating the beautiful, while also celebrating the women that they are. These women are sexy, but also respectable. Here are the ten most beautiful soccer wives in the world…
#10 Thobela Silver
Husband: Lucas Radebe


Not much is known about businesswoman Thobela Silver. She is South African star Lucas Radebe's second wife. Silver is seen here looking rockin' representing their Soweto culture. Her mother-in-law describes her as "humble, and a beautiful person inside and out."
#9 Wanda Nara
Husband: Mauro Icardi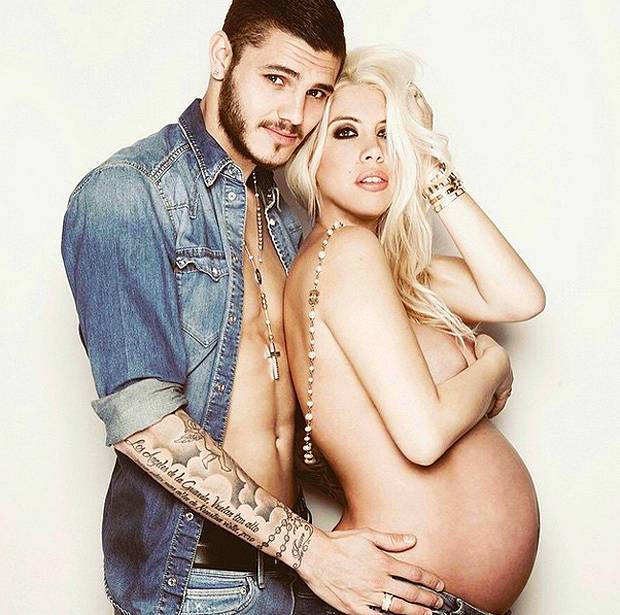 Wanda Nara is the most controversial on this list. She had first married Argentina's Maxi López for five years. Shortly after their divorce, Nara and Icardi wed. López's bitterness was so bad, that he notoriously refused to shake Icardi's hand at what is now dubbed the "Wanda Derby." Nara isn't exactly full of modesty, but she does make it on this list for being a mother, being hot, and being a woman who gets what she wants.
#8 Lalla Drogba (née Diakité)
Husband: Didier Drogba


Now that Drogba's on the scene in Phoenix, Lalla is practically the First Lady of Arizona soccer. "Madame Drogba" was born in Mali, and previously studied to be a nurse. She keeps out of the public eye mostly, but we do know that she is a mother of four.
#7 Ana Ivanovic
Husband: Bastian Schweinsteiger


Serbian tennis superstar Ana Ivanovic keeps her figure with swings and backhands. She was the French and Australian Open champion in 2008. Though her career had declined after a much successful '08, she still looks damn good.
#6 Anna Ortiz
Husband: Andres Iniesta

You can tell Ortiz is a hairstylist by the many looks she pulls off, and she is now a full-time interior designer. She is Catalan and had been dating Andres Iniesta since 2008 (they were married in 2012). They can be seen here, drinking Iniesta's own wine brand. Anna Ortiz is beautiful, alluringly humble, and a mother of two.
#5 Bouchra Van Persie
Husband: Robin Van Persie


BVP went through a lot of strife, from death threats on Twitter to having her husband accused of rape. While many accuse her of being a "gold digger," she may also be seen as a strong, resilient woman who hasn't let the media destroy her sanity. Van Persie is Moroccan, gorgeous, and a mother of two.
#4 Michela Quattrociocche
Husband: Alberto Aquilani


Quattrociocche didn't need to marry a soccer star to rise to stardom. Her acting career kicked off straight after high school. She's appeared in four movies and is a mother of two. She's won "Best Female Newcomer" in an Italian film festival. MQ made pregnancy look good, proving that flat abs isn't always necessary in physical beauty. She and midfielder Aquilani have been married for five years.
#3 Victoria Beckham
Husband: David Beckham


No surprise here. Victoria Beckham is a stunner! For those that grew up in the 90's, no one can forget "Posh Spice." She's 43 now and arguably more attractive than she ever was. She was named Top Entrepreneur by Management Today magazine, and has worked as an ambassador for the UNAIDS program. Above all, she is a mother of four.
#2 Shakira
Husband: Gerard Piqué


There's much to admire about Shakira. Her sexy Colombian accent, her moves, her hips not lying. But despite this, Shakira is working hard to make a philanthropic mark on the world. She's a powerful advocate for the ALAS foundation, an organization dedicated to improving children's lives in Latin America. She's also a UNICEF ambassador. Shakira is a mother of two, and has more awards than we can list here. She's beautiful, she's an activist, and she's counterpart to one of Espana national team's finest, Gerard Pique.
#1 Antonella Roccuzzo
(Soon to be?) Husband: Lionel Messi
Lionel Messi may be the greatest soccer player in the world, but Roccuzzo takes an even greater title: mother of two. Though the two aren't married (yet), they have been together since childhood. Roccuzzo is an Argentine, which probably accounts for her beautiful features. She has tan skin, seductive eyes, and an amazing figure. Roccuzzo makes number one on the list for several reasons. She comes from humble beginnings, is a mother of two, is simple, is classy, and has sheer natural beauty.
http://azsoccer.net/wp-content/uploads/2017/04/Shakira_Rio_02_cropped-Edited.jpg
960
750
http://azsoccer.net/wp-content/uploads/2014/03/AZSoccerLogo200Mascot1.jpg
2017-04-29 08:20:26
2017-05-09 22:52:14
The 10 Most Stunningly Beautiful Soccer Wives